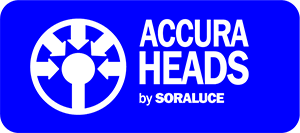 CHALLENGE TO OVERCOME
Machines are exposed to geometrical variations along their life.
These variations may require re-setting-up the kinematic model of the machine with the help of an specialist technician.
SOLUTION
As an extension of DHC package, in the case of high accuracy processes, ACCURA HEADS enables the possibility to compensate the head articulation positioning deviation for one particular position of the head.
It allows the compensation of head's kinematic values in specific angular positions of the head.
This option ensures the maximum accuracy of the machine as the measurement cycle is executed just before the milling process.
BENEFITS
Excellent machine accuracy for one particular head orientation
Extension of DHC package (DHC included)
Calibration for any type of head
Direct calibration for any angular orientation of the head
Calibration for any angle, not just orthogonal
Measuring of head centre offsets between all milling heads for machines equipped with head changing system
M function to activate