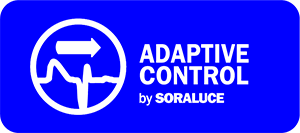 CHALLENGE TO OVERCOME
Long cycle times, spindle overload and short tool life due to:
Reduced cutting capability (especially when ram is extended)
Fluctuations in dimensions or in material
Fluctuations in cutting depth, tool wear or material hardness
Variable rigidity of workpiece
Air gaps during cutting
SOLUTION
SORALUCE ADAPTIVE CONTROL adjusts automatically the defined cutting parameters depending on the real machining situation.
When the power consumption of the spindle is less than programmed, the machine can speed up the feed, shortening the machining time. By contrast, when the power consumption is higher than programmed, the machine automatically slows down the feed to protect the tool, the workpiece and the machine.
BENEFITS
Optimises cycle time
Enables unattended machining
Increases machine and tool life
No learning process is required
Processing time is reduced by up to 25 %
Reduces the total energy consumption
Learning process is not required