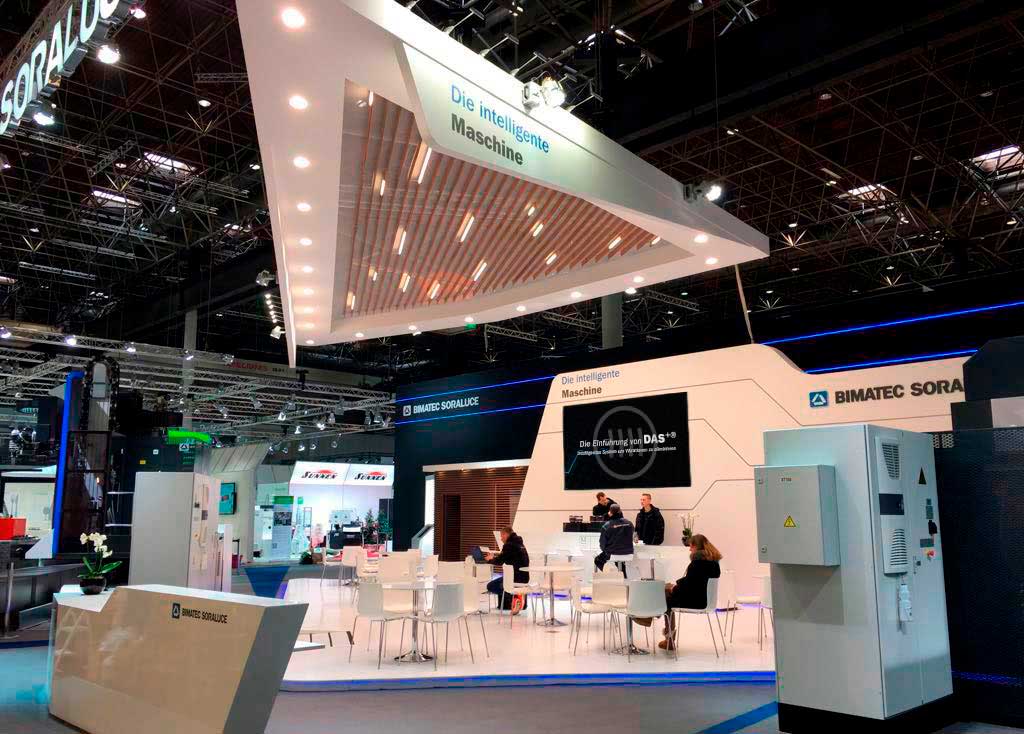 An intelligent machine comprises of practice-oriented and innovative technologies. Based on in-depth research, experience and the requirements of its customers, the company develops innovative technologies systematically exceeding the existing limits in milling, boring and turning. The new developed solutions showcased in METAV 2018 provide customers with a decisive competitive advantage.
With this strategic approach, BIMATEC SORALUCE has set out to transform from a pure machine tool builder into a supplier of holistic machining solutions. As such, BIMATEC SORALUCE focuses in the development of technological solutions for various customer requirements which drive efficiency and productivity to its limits.
New technologies such as VSET and DAS+ give young and inexperienced operators the opportunity to produce the same quality as longstanding employees and in an even faster machining time with the result of highest efficiency and better performance.
A connected life can be fascinatingly easy. BIMATEC SORALUCE demonstrated in Düsseldorf its digital ecosystem. Sensors and control information provide data as the basis for intelligent evaluations and optimizations. SORALUCE DIGITAL offers a complete and practice-oriented digital world.
Another highlight took us from the standard machine to automation, where customers benefit from automation solutions and reduce their production times by up to 70 % by increased spindle running times.
Multitasking machines were presented by the company as the solution for the future, providing maximum versatility, productivity and precision for production. Milling, turning, grinding and boring on a single machine, so that set-up times become spindle running times.
The intelligent machine
DAS+ is the biggest innovation for cutting operations. The patented DAS+ system, which takes over the awarded DAS presented in 2015, is now also available for SORALUCE bed type milling machines. The premiere in a TA-A 35 took place during METAV 2018 where the company also demonstrated the advantages of a full set of proven technologies developed to improve efficiency and performance.
Advantages of the new DAS+ became crystal clear during the presentation: regardless of the source, chatter disappears, cutting capacity increases up to 300 %, cutting conditions are consistent in the complete working area, up to 45 % reduced cycle times in tested milling processes, tool life is extended up to 30 % and the risk of tool breakage is also reduced. The system becomes even more attractive with the SSV function that regulates automatically the spindle speed.
Adaptive Control is the technology, developed by SORALUCE, which enables reduced machining times through automatic feed control where no manual intervention by the operator is required and the machining process becomes unattended. This technology extends the tool life up to 30 %. There is no chance of tool breakage when entering the workpiece or while machining with interrupted cuts, and the surface quality is clearly improved.
Ram Balance is how BIMATEC SORALUCE names the technology capable of keeping a consistent straightness of the ram axis of 0.02 mm over the total traverse of up to 1,900 mm with a very precise positioning of the tool always perpendicular or parallel to the vertical axis. The system provides the same accuracy with any milling head, quill or facing heads, regardless of the weight and works both in positive and negative directions. Large and heavy tools can be easily compensated and the direct position measuring system guarantees continuously highest precision for the workpiece. This feature is constantly active without intervention of the operator.
Reductions in measurement, best fit and alignment processing times of up to 70 % is the main characteristic of the new VSET. This system is based on 3D vision technology, which reduces the best fit calculation and alignment time of large raw parts. The system is based on photogrammetric technology to measure the part thanks to different reference points calculated on the workpiece. VSET is easy to use providing simple information for machine operators. It doesn't require a metrologist, but it provides a low cost and precise measuring process outside the machine, ensuring the raw part quality and increasing efficiency through a reduction of set up process.
Intelligence is also being able to ease programming of repetitive machining operations on complex components turning by interpolation, radius milling by interpolation, etc. This is achieved through Custom Cycles technology that makes easy programming on the machine through auxiliary graphics and dialogue guidance to reduce machining times using optimized milling and boring technologies. It allows multipass milling of radii or sloped surfaces without external programming.
Technology is one side of the intelligent machine, but connectivity solutions ensure efficient communication and interaction between machines, operators and managers.
SORALUCE Digital – Easy entry into the digital world
The demand for innovative connectivity services has been growing steadily. SORALUCE digital is the response of the company to this market demand. It is deployed in four main concepts: Data System, Advanced HMI, Intelligent Components and Control System.
SORALUCE Data System provides real time information about the status of the machine and relevant information about the current machining process. The user has access to a complete suite of reports that summarize the activity of the machine in order to inform about trends in its performance, enabling analysis to optimize the machining process and energy consumption, including maintenance manager, cutting data calculator and alarm module.
The system monitors different machine elements through smart sensors located on them and processes the data from these sensors with special algorithms making it possible to perform accurate analyses of the process and of the conditions of the machine (smart machine).
SORALUCE Digital offers an advanced HEIDENHAIN HMI function with a complete set of utilities comprising of additional softkeys, diagnosis masks, manufacturing cycles and SORALUCE apps. It is also characterised by a modern user interface and easy operation.
The system allows the easy and reliable connection with the machine via Ethernet and has an interface for connectivity with MES, ERP or other logistics management software. The machine status can be displayed on any device with access to the internet such as PCs, laptops, smartphones or tablets. Furthermore, SORALUCE offers 100 % data security through its own cloud system.
From the standard machine to automation
BIMATEC SORALUCE customers can benefit from automated solutions and are able to reduce their production times in total by up to 70 % through increased spindle running times. During METAV, visitors were presented with good examples of proposed solutions for the production such as a simple and manual pallet transfer with zero point clamping system, an automatic pallet changing system with pallet station from the simplest to the most complex solution, a duplex solution with two traveling column machines opposite one another and the use of two machining spindles for a productivity increase of up to 100 %, customized tool magazines with tool arenas with 6-axis robots and tool racks for unlimited number of tools and own tool management system…
The central tool pool with automated feeding system to the machine and the interlinking of several SORALUCE milling, turning and boring centres with automatic palletizing systems and managed by industrial computers were also two interesting options available.
The objectives behind these automation solutions were clearly presented by the management of BIMATEC SORALUCE Mr. Andreas Lindner and Mr. Thilo Borbonus: the company wanted to offer its customers an unattended machining process through a high level of automation in order to reduce set-up times, allow complete machining of the workpieces without grinding, reduce manual intervention in the production process and allow the customer to develop new markets in contract production.
Multitasking machines – The solution for the future
One single machine will provide maximum flexibility, productivity and precision for production. Milling, turning, grinding and boring will be all together in a single piece of technology. Set-up times will become spindle running times. This proposal is real in SORALUCE multitasking machines.
The range presented allowed milling, turning, grinding and boring operations for workpieces with dimensions from Ø 1,000 mm to Ø 8,000 mm. Different machining processes can be undertaken in a single set-up. Precision is also improved, because components are machined in a single set-up. Production times can be reduced up to 60 % by eliminating multiple set up processes on different machines while less manual intervention takes place in the production process. Pendulum machining of workpieces or machining of large size parts can be undertaken through the use of the complete working area.
Regarding productivity, simple semi or fully automated solutions in various extension stages can increase it. Development of new markets in contract production can also be a way to improve profitability.
From the floorplan point of view, less space is required as the fleet of machines is reduced. Other savings may come from the reduced need of personnel, lower investment in tools and clamping equipment, lower programming effort or less maintenance costs.
A unique opportunity to experience the SORALUCE XXL series live – Precision and versatility at a large scale
Another announcement made in METAV was the presentation of the SORALUCE "XXL Series" from 6 to 9 March in SORALUCE premises in Bergara, Spain. Customers and trade press will have the opportunity to experience the latest SORALUCE products with gigantic machining capacities as well as innovative SORALUCE technologies. The machines available will be XXL floor type and portal milling boring centres as well as vertical turning centres together with exceptional "SORALUCE Digital" capabilities specific for the XXL series, enhanced productivity through multitasking solutions designed for XXL machines, customization to meet specific requirements, all together with live demonstrations.
The references that will be showcased in Bergara will be a SORALUCE portal milling machine PM 6000, a SORALUCE multitasking floor type milling boring centre FXR-W 20000, a SORALUCE vertical turning centre VTC 8000 and a SORALUCE multitasking floor type milling boring centre FR 10000.
BIMATEC SORALUCE, based in Limburg a. d. Lahn (Germany), is one of the leading companies in milling, turning and boring technology. With over 25 years of experience and the know-how of more than 1,200 installed machines, we are a reliable partner for our customers in the machining of medium-sized to large workpieces. In Germany, the company has a customer retention rate of 80 % with customers owning at least two SORALUCE machines.
SORALUCE is part of the DANOBATGROUP, the machine-tool division of MONDRAGON Corporation, one of the largest holdings in Europe. It has nine state-of-the-art manufacturing plants in Spain, Germany, the UK and the USA, an Excellence Centre in Germany (BIMATEC SORALUCE) and its own R&D centre with 120 engineers, 24 PhDs and more than 30 years of history. The DANOBATGROUP develops and supplies an extensive range of machine tools, turnkey lines and solutions for specific applications aimed at high-technology sectors and at customers with high technical requirements. In 2016, it achieved a turnover of 260 million Euros with a workforce of 1300, enabling it to continue making significant investments in R&D, which represent approximately 8 % of turnover.
For further information please contact:
Linda Hanzlik
www.bimatec.de
Tel: +49 (0) 6431 9782-775 / +49 (0) 151 580332 26