Soraluce, Celebrating 60 years at the forefront of technology at IMTS 2022
Soraluce, specializing in the design, engineering and building of milling, boring, multitasking and automated solutions will be exhibiting as part of the Select Machining Technologies exhibit at IMTS 2022, in the South Building – Metal Cutting Pavilion in booth #338948.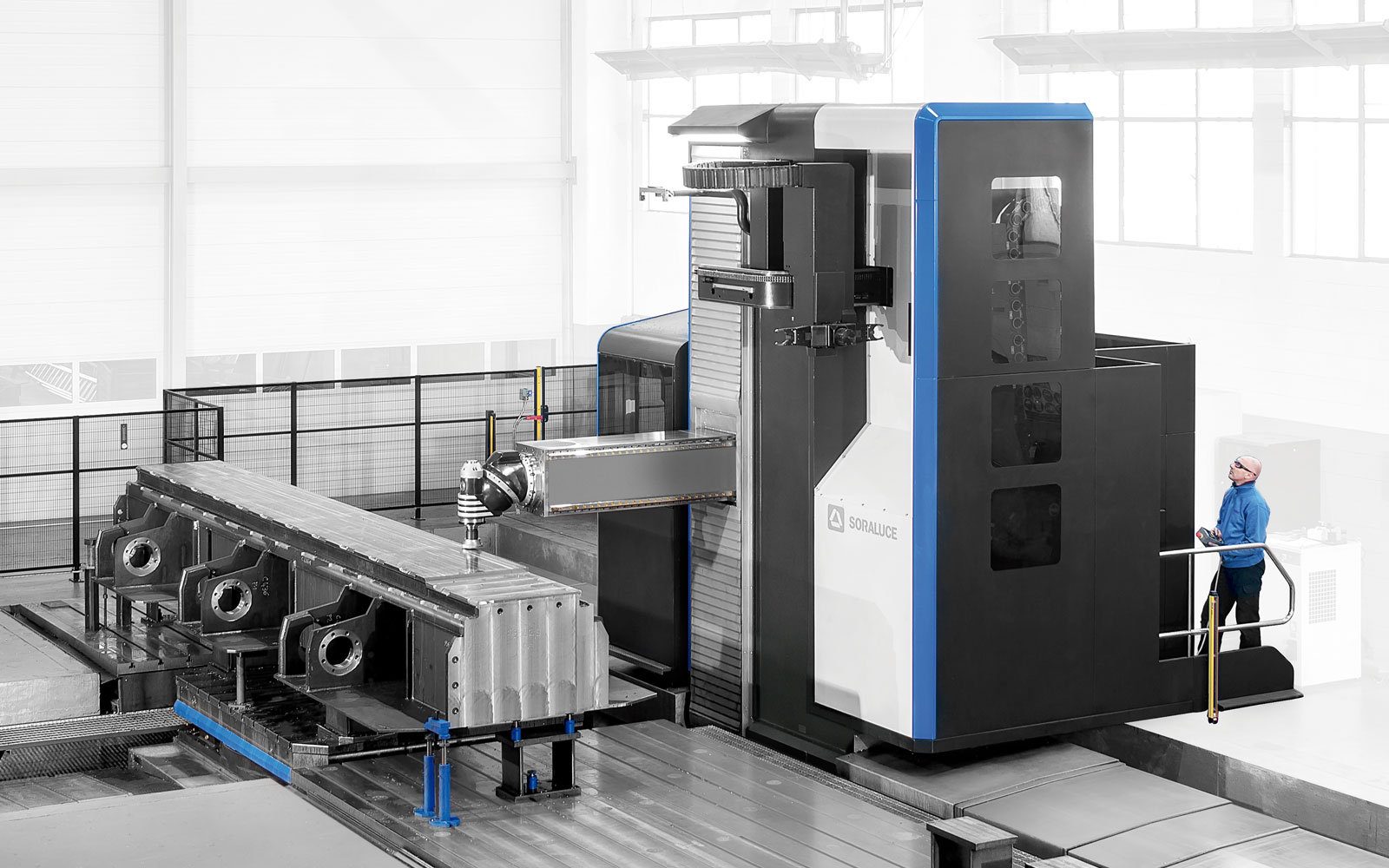 Boring Mills, Born for Big Challenges
SORALUCE, which is celebrating its 60th anniversary and its international leadership in milling, boring, multitasking and automated solutions, will exhibit some of its most innovative technology concepts to the public at the IMTS, such as the travelling column boring mill, SORALUCE FP, which will be live be onsite. It is a multi-purpose, milling-boring machine, offering high versatility and productivity for large component machining, raising productivity to a higher level by providing maximum cutting capacity and flexibility.
The SORALUCE FP milling-boring machine is an expression of SORALUCE's values: reliability, precision and competitiveness. Within these concepts, customers realize huge improvements in maintenance, ergonomics, and safety in the work environment, while also providing an energy consumption saving of more than 30%. Its rigid design provides the highest precision and productivity benefits when machining large components.
The FP milling-boring machine offers high performance machining results thanks to its high dynamic driving system, with speeds that reach up to 35,000 mm/min, and a combined guiding and damping system offering the proven optimum in power and cutting speed capabilities.
The machine's modular design offers remarkable versatility and can be equipped with a large number of optional accessories and wide range of milling-boring heads, enabling the machine to be adapted to customer's needs delivering the optimal metal removal efficiency and precision. Furthermore, as it is a floor type machine, the work area can be configured according to the specific needs of each customer, with one or several workstations, making it possible to carry out simultaneous machining and part preparation operations, facilitating pendulum machining with several work areas that ensure zero downtime. The Soraluce FP can integrate; floor plates, angle plates, auxiliary tables, rotary or rotary-travelling milling tables and turning tables. The machine responds to multitasking and versatility requirements likewise the demand for finishing workpieces in a minimum number of set-ups.
Thanks to its flat longitudinal axis design and low profile column connection, the machine centre center of gravity is kept very low, enabling high machine stability, reduced foundation costs, improved machine operation and ergonomic maintenance.
The machine has 126" vertical traverse, 63" cross traverse and 57 HP spindle power and is equipped high torque mechanical transmission multitasking universal head (milling, turning and grinding capability), providing head and spindle orientation at any angle.
The wide range of SORALUCE milling-boring heads machine offer a customized solution for each application-operation and automatic change of heads and tools minimizes downtime.
Smart Damping Solutions
Soraluce continues to consolidate its great commitment to technology, by developing high value-added services and expert advice to customers. In this regard, as explained by Oier Elguezabal, SORALUCE's Vice President Sales Americas, "At IMTS we will be presenting our smart damping solutions for increasing metal removal rates during machining, developed thanks to our superior technical skill and knowledge of the engineering applied to manufacturing solutions."
Soraluce has developed different systems to eliminate chatter, thus increasing the cutting capacity of their machine tools and the efficiency of the machining processes.
Soraluce will showcase its renowned active damping system, DAS®, the smart system that oversees the machining process and selects the best technological alternative to eliminate chatter. Fitted with a very simple interface, this solution allows the evolution of the process to be controlled, by providing comprehensive information on the chatter, the vibration level and the technologies used to suppress it; such as the active damping of the ram, the tuning of the optimum spindle speed of the tool and the harmonic oscillation of the spindle speed. "This system allows productivity to be increased by up to 300%, maintain 100% cutting capacity throughout the whole of the machine's work volume, cut machining times by up to 45%, improve the surface quality of the machined workpieces, increase the tools' useful life and the long-term precision of the machine by reducing the wear of the internal components.
Soraluce will also be presenting the DWS (Dynamic Workpiece Stabilizer) system, an active damping device that eliminates the chatter that is usually generated when machining flexible parts. This patented system, which was the winner of the Prize award in the International Quality Innovation of the Year 2020 competition, provides an effective solution for the problems associated with machining slim-format parts and is an improvement on traditional alternatives. One its main benefits is a better surface finish in areas where the workpiece is more flexible, and the chance to boost productivity thanks to in-depth passes with no vibration problems. Its user friendliness, its adaptability to different workpieces and its portability are some of the other advantages of the device.
About Soraluce
Endorsed by its 60 years of experience and inspired by innovation, Soraluce continues to drive the machine-tool sector forward, thanks to its ongoing innovative and trail-blazing contributions in the field of engineering that have make it a benchmark of the sector.
Soraluce's success is based on first-rate quality, a stellar service, cutting-edge own technology, its technological ability to customize each product according to the client's individual needs and its clear international approach. Soraluce develops innovative solutions committed to the technological progress of its clients, meeting the most demanding machinery challenges efficiently and with high levels of productivity. It is thus setting new standards.
Soraluce offers a wide range of milling, boring and vertical turning machines, multitasking solutions, and automated lines and systems. It provides professional advice on machining engineering and has a team of highly experienced technicians to assess the machining production and processes of its clients and propose solutions for their optimization in line with the quality, efficiency and cost parameters required by the investor.
Innovation is at the cutting-edge of what Soraluce does and it is a trailblazer in many of the technologies driving the machine-tool sector, such as the DAS® (Dynamics Active Stabilizer), Modular Quill and Ram Balance, all of which are patented.
The European brand has extensive experience, with over 3,000 machines installed, with nearly 80% of its clients buying its machine tools again.
Soraluce is part of the Danobatgroup, the machine tool division of Mondragon Corporation, one of Europe's most important business groups. It has different Centers of Excellence in Germany, Italy, USA, China and the United Kingdom, and its own R&D center where 120 engineers and 29 PhDs work, and endorsed by over 30 years' experience. Danobatgroup provides one of the more comprehensive and competitive multi-technology offers on the market. With a workforce of 1,300 and a turnover of €260 million, it is clearly committed to innovation with a level of investment in R&D&I that comes to roughly 8% of its turnover.
Select Machining Technologies (SMT) is the exclusive importer of Soraluce machine tools in the USA with sales and service support provided by an industry leading network of distributors that include; Morris, Hartwig, Gosiger, and Arizona CNC. By combining the highest performance technology with support by the industry´s most knowledgeable distribution channel, Select delivers advanced metal removal solutions for manufacturers biggest machining challenges. To learn more about Soraluce's range of machine tools, contact Doug Schulte, Senior Product Manager, Select Machining Technologies, dschulte@selectmachiningtech.com, 256.508.0805. For more information about the entire range of Soraluce machine tools, visit www.soraluce.com