SORALUCE SAM multitasking CENTRE
Performance Line. Born Reliable. Born Flexible.
High performance capacity in milling, turning and grinding in a single set-up
Proven quality components: high performance 7000 rpm heads, direct drive inline motor and robust software.
Best geometric stability through water-based cooling and real time thermal compensation.
Solutions adapted to your needs: New choice of milling heads with higher spindle speed and easy integration of milling & turning tables (Rotary milling / turning table size: Ø 1000 mm / Max. swing: Ø 1500 mm)
Set & Go: Less footprint in the workshop. Less expensive foundation. Easy transport & installation.
Ergonomics & Easy maintenance.
Characteristics

SAM40

SAM50

SAM60

Table area

mm

Ø 1000 (turning) |
4000 x 1000 (milling)

Ø 1000 (turning) |
5000 x 1000 (milling)

Ø 1000 (turning) |
6000 x 1000 (milling)

Swing (max)

mm

Ø 1500

Turning spindle speed

min-1

400

Turning spindle power

kW

60

Table capacity

Kg

4000 (milling) | 2000 (turning)

Longitudinal traverse "X" axis

mm

4000

5000

6000

Vertical traverse "Z" axis

mm

1500

Cross traverse "Y" axis

mm

1200

Spindle power

kW

32 (S1)

Spindle speed range

min-1

6000 / 7000

Rapid traverse

mm/min

35000

Tool magazine

No. tools

40 / 60
Customisation
Select your head:
Technical data
Automatic indexing head with turning capabilities
Up to 4000 rpm with standard steel bearings, or 5000 rpm with hybrid bearings
Air-oil lubricated gears
The head includes a clutch in the spindle area for positioning and clamping the spindle at any angle for turning operations. The clutch hydraulically clamps and unclamps the rotation of the spindle for turning operations
Possibility of working with bigger diameter workpieces, performing turning operations in a diagonal direction (interpolation X/Z axes)
The head can be positioned to avoid interferences with the workpiece
The use of this head is highly recommended on multitasking machines (milling and turning)
37 kW
2.5° x 2.5° / 0.001° x 0.001°
4000 / 5000 min-1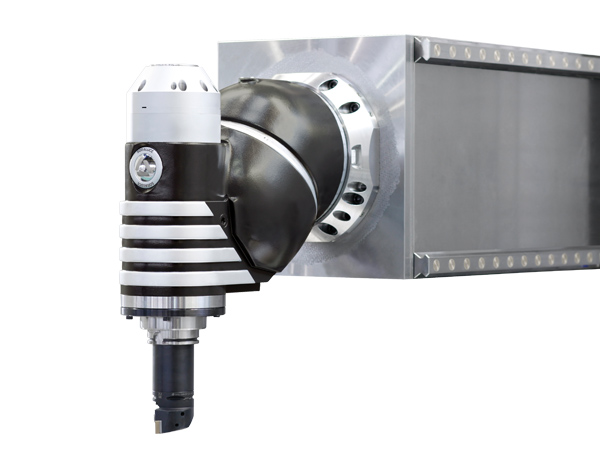 Working Stations
Turning table
Applications