Soraluce, 60 years of state-of-the-art technology
From 18 to 20 May the machine tool manufacturer is holding another Soraluce Summit at its Bergara plant to commemorate six decades of business and international leadership of milling, boring, multitasking and automation solutions.
During the event the company will present an innovative large-format multitasking machine with a high automation capacity designed for German firm Krones, a world leader in production lines for the food and beverage industry.
It has arranged a guided tour to showcase its latest progress and projects, with demonstrations of its damping solutions and continuous live machining.
The company will also be demonstrating its new advanced digital services based on Soraluce´s integral monitoring platform, which will boost machinery´s availability and productivity.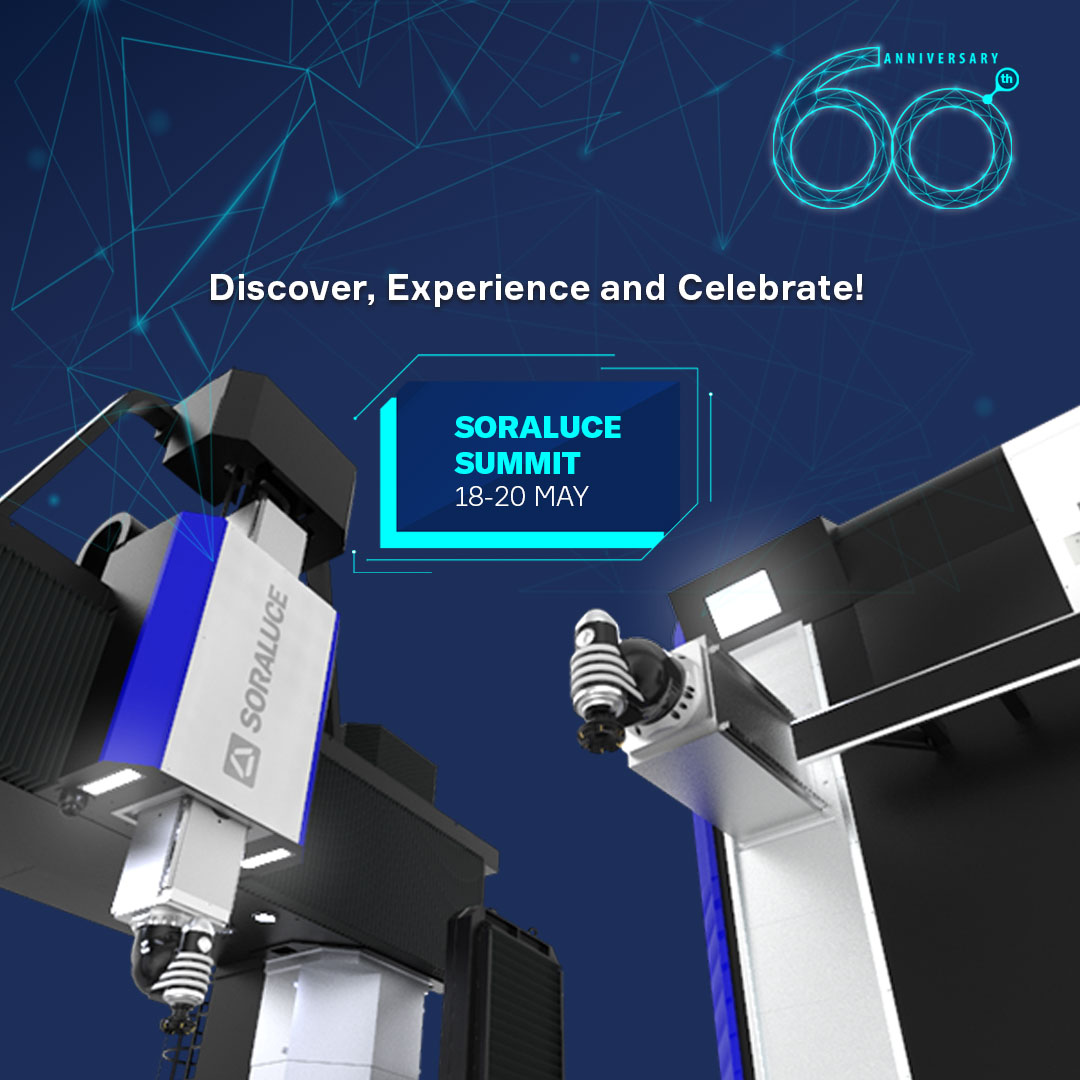 Producing innovative pioneer engineering solutions to drive the technological change of companies operating in the machine tool sector, establishing new standards and addressing the challenges of the most demanding machining work, with high productivity and efficiency. This is the concept which machine tool manufacturer Soraluce has been perfecting for six decades since its beginnings in 1962, and which has earned the company its current status as world leader of milling, boring, multitasking and automation solutions.
To commemorate its 60 years of state-of-the-art technology, the firm is holding another Soraluce Summit, from 18 to 20 May at its Bergara plant. Over three days, the machine tool manufacturer will be showing the general public its customised range adapted to each customer, divided into three sections: the very latest machinery -Leading Generation-, state-of-the-art technological solutions -Smart Technology- and cutting-edge Digital Services, the benefits of which will be made clear with demonstrations and live machining.
Leader range
Higher production rates, greater accuracy, higher efficiency, better performance, greater user-friendliness, improvements to ergonomics, safety and higher profitability, lowering cycle times, downtime, consumption and emissions. This is the premise on which Soraluce has been providing the machine tool sector with innovative solutions for the last 60 years.
At the open-day event, among other new features, the company will be presenting a new large-format multitasking machine integrating milling processes with turning processes with a high automation capacity, for Austrian firm Krones, a world leader in production lines for the food and beverage industry.
The machine features bridge-type moving table architecture, and has two rotary-travelling milling/turning tables, diameter 6,000 mm, tilt 7,100 mm, with up to 40 Tn parts capacity. It has a range of milling and turning heads, and robotised storage with 500 tools.
Smart technology
On a guided tour, Soraluce will be showcasing its latest progress and milling, boring, multitasking and automation projects, along with new smart damping solutions to boost the removal of chips during machining. Those at the event will be able to study all these technologies first-hand in live demonstrations.
In this regard, the Soraluce Summit will be presenting its active damping system DAS®, a smart system which oversees the machining process and chooses the best technological alternative to eliminate vibration, and its active damping facility DWS (Dynamic Workpiece Stabiliser) which eliminates chatter or vibration when flexible parts are being machined, and which won the 2020 Quality Innovation of the Year award.
Advanced digital services
In addition to its new features in terms of machinery and technological solutions, the firm will also be demonstrating its innovation in industrial digitalisation, all produced at the Soraluce Software Factory, an in-house system developing advanced software solutions, the latest technology and digital services.
Here Soraluce will be showcasing some of the advanced digital services that are helping step up the pace of the digital transformation of businesses operating in the sector, such as the Autocheck system producing an automatic diagnosis of machine status, the FactoryConnect solution for plant digitalisation; the EMaintain tool which automates and digitalises maintenance processes, and the new functions of the Smart HMI interface, boosting the efficiency of manufacturing processes.
To complete the range of new digital services, for the first time the machine tool manufacturer will be showing the general public its integral monitoring platform "My Soraluce", for better monitoring of current machine status. A new system which, as Soraluce´s head of Services and Solutions Alejandro Martínez explains, "provides customers with direct access to all the machine´s information, enabling them to check its current status at any time from any location, making the process easier, faster and clearer."
To visit the Soraluce Summit 2002 and go on the guided tour with Soraluce´s experts, you must book the day and time of your visit in this link.
About Soraluce
With a wealth of experience based on 60 years of history and inspired by innovation, Soraluce is moving the machine tool sector forward with innovative pioneer engineering solutions that have made it a benchmark within the sector.
Soraluce´s success is based on excellent quality, the best possible service, in-house state-of-the-art technology, its technological capacity to customise each product in accordance with the individual requirements of the customer, and a fully international outlook. Soraluce produces innovative solutions with a commitment to the technological progress of its customers, addressing the challenges of the most demanding machining work, and establishing new standards.
Soraluce offers an extensive range of milling machines, boring machines and vertical lathes, multitasking solutions and automated lines and systems, with a professional advisory service in machining engineering and a highly experienced technical team to assess the production and machining processes of our customers, and provide solutions to optimise them in accordance with the parameters of quality, efficiency and costs demanded by the investor.
Innovation is Soraluce´s cutting edge, and it has pioneered many of the technologies driving the machine tool sector, such as, for example, the DAS™ system (Dynamic Active Stabiliser), the Modular Quill system and the Ram Balance (a system to offset ram fall), all of which have been patented.
This European brand has a wealth of experience and has sold over 3,000 machines, almost half of them in Germany, an extremely demanding market. It has also been observed over the years that 80% of customers have returned to place their trust in its products.
Soraluce forms part of Danobatgroup, the machine tool division of the Mondragon Corporation, one of Europe´s largest business groups. It has Excellence Centres in Germany, Italy, the USA, China and the UK, and its own R+D centre staffed by 120 engineers and 29 doctors, a facility that goes back more than 30 years. Danobatgroup provides one of the market´s most comprehensive and competitive multi-technology offers. With a headcount of 1,300 employees and a turnover of 260 million euros, it has a clear focus on innovation, investing approximately 8% of the revenue earned in R+D+i.