Smart solutions in milling, boring & turning: SORALUCE's proposal for the future at Mecspe
• SORALUCE presents SORALUCE Digital, a high value-added platform for increasing the availability and productivity of its solutions. • Advanced technology in multitasking solutions, automated systems and large-sized machines. • Presentation in Italy of the DAS+ system, which includes new functions such as supervision of vibration levels, detection of the risk of chatter and a new spindle speed tuning function. • SORALUCE will be showing its compact, ergonomic SORALUCE TA-A 35 bed type milling machine.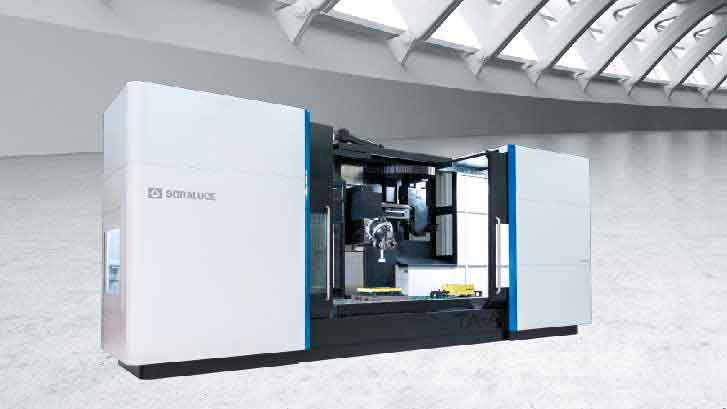 Inspired by innovation and with experience based on 55 years of history, SORALUCE is the worldwide leader in milling, boring and turning technologies. Innovation is at the forefront and many of the technologies that drive the machine tool sector have been pioneered by SORALUCE.
Greater production rates, higher accuracy, improved efficiency, enhanced performance, user-friendliness, ergonomics, safety and cost-effectiveness – all while reducing cycle times, downtime, consumption and emissions… This is the sort of progress that makes sense for SORALUCE.
With a strong commitment to technology, SORALUCE is the best partner, providing outstanding services and expert advice. It takes technology to the limits through constant evolution, to supply reliable solutions and a wide range of added value services.
SORALUCE TA-A 35 Milling Machine
SORALUCE will showcase the SORALUCE TA-A 35, a bed type milling machine, distinguished by its optimum stiffness and mechanical stability, providing high stock removal capacity. It is notable for its long-lasting precision, resulting from a strict design and assembly process and the unique mechanical features of the cast iron. Equipped with lineal guiding system in all axes, it provides immense stability eliminating any vibration during machining processes
The machine design and configuration bring the customer important improvements in maintenance, ergonomics, high dynamics and safety in the work environment.
SORALUCE TA-A bed type milling centre is a heavy machine compared to other bed type milling centres on the market, supports workpiece loads up to 7800 kg.
The machine has a table area of 3700 x 1000 mm, 1200 mm vertical traverse, 1250 mm cross traverse and 28 kW spindle power at 4000 rpm. It is equipped with automatic tool changing system and tool magazine for 40 tools. The high torque allows high-performance machining results.
The SORALUCE TA-A 35 model is highly flexible thanks to the automatic universal head indexing at 2,5ºx2,5.
The machine is equipped with a full peripheral enclosure with two sliding doors at the front and one at the back on the left, providing easy access to the work area from the front and rear.
It is the ideal machine for high precision mould and die manufacturers and medium sized precision engineering workpieces, ensuring highest precisions and efficiency.
Additionally the machine incorporates the latest technologies developed by SORALUCE such as Accura and Sleep Mode for the highest productivity results and energetic efficiency.