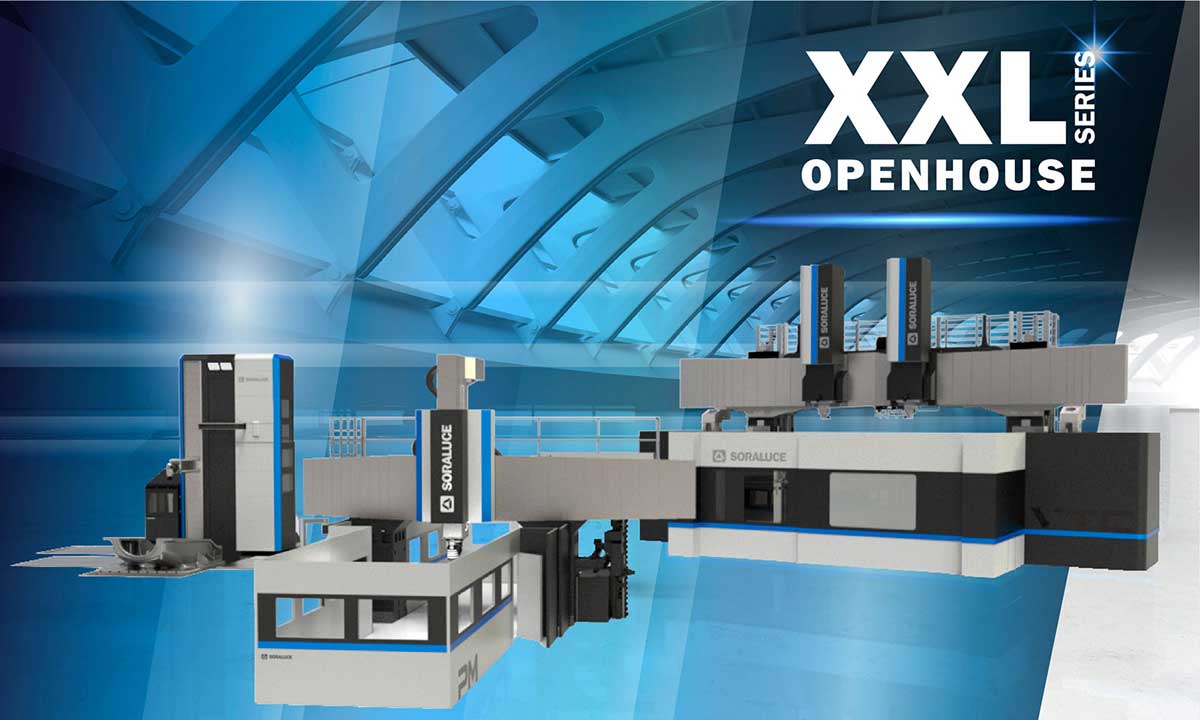 SORALUCE is once again proving its leadership and technological capabilities with this XXL Series, offering outstanding advantages in the machining of large-sized components.
The SORALUCE XXL Series Open House will be held from 6 to 9 March at our Bergara facility in Spain's Basque Country, where we'll present our latest innovative products, technologies and solutions to meet the requirements of large-size and heavy-duty milling, boring and turning.
Wide range of machines
SORALUCE offers a wide range of heavy-duty milling, boring and vertical turning machines, multitasking solutions and automated systems which offer precision and versatility when machining large-sized components.
SORALUCE PM 6000 moving table portal machine
SORALUCE FXR-W 20000 floor type milling boring machine
SORALUCE VTC 8000 vertical turning centre
SORALUCE FR 10000 multitasking floor type machine
The machines on display can be adapted to meet each customer's specific needs, with customisable tables, heads and machining cycles.
SORALUCE develops innovative solutions adapted to the technological progress of its customers, enabling those customers to meet the most demanding machining challenges efficiently and with high levels of productivity, setting new standards in milling, boring and turning.
SORALUCE can also provide professional advice in machining engineering, thanks to its team of highly-experienced engineers who evaluate customers' production and machining processes and provide suggestions for optimisation.
Productivity through multitasking
SORALUCE will also be showcasing multitasking technology applied to heavy-duty components.
Multitasking machines enhance the profitability of machining technically-complex parts. A single machine offers multiple cutting processes, including turning, milling, boring, drilling and tapping. This enables efficient production of large scale workpieces of different shapes, with precision. The number of set-ups required is reduced and cycle times and potential errors are minimised. Great precision can also be achieved, with tolerances to two decimal places on large-sized workpieces, even those weighing hundreds of tonnes.
SORALUCE provides a wide range of multitasking capabilities thanks to its innovative design of turning heads and tables and the company's continued focus on technological developments and customer cycles. The specially designed head for multitasking milling and turning operations offers increased functionality and efficiency.
Live demos
Innovation is at the forefront of everything SORALUCE does. As a result, many of the technologies that drive the machine tool sector have been pioneered by SORALUCE, such as the patented DAS systems (Dynamics Active Stabiliser), Modular Quill and RAM Balance Systems.
The Open House will include a series of live demonstrations of heavy-duty milling and boring, and SORALUCE's advanced technologies:
SORALUCE, setting new standards
SORALUCE is the global leader in milling, boring and turning technology. Since its creation 55 years ago, it has continuously made innovative and pioneering contributions to engineering that have become industry standards. SORALUCE is recognised for its expertise in milling, boring and turning solutions and has the ongoing aim of improving customers' efficiency and productivity. The company is also noted for its technical ability to customise each product based on the customer's individual needs, and to implement turn-key projects, designing and setting up full lines according to the customer's quality, efficiency and cost parameters. SORALUCE is a European brand which has extensive experience and a strong track-record, with over 2,800 machines sold (nearly half in the highly-demanding German market) and a customer retention rate of 80%.
SORALUCE is part of the DANOBATGROUP, the machine-tool division of MONDRAGON Corporation, one of the largest holdings in Europe. It has nine state-of-the-art manufacturing plants in Spain, Germany, the UK and the USA, an Excellence Centre in Germany (BIMATEC SORALUCE) and its own R&D centre with 120 engineers, 24 PhDs and more than 30 years of history. The DANOBATGROUP develops and supplies an extensive range of machine tools, turnkey lines and solutions for specific applications aimed at high-technology sectors and at customers with high technical requirements. In 2016, it achieved a turnover of 260 million Euros with a workforce of 1300, enabling it to continue making significant investments in R&D, which represent approximately 8% of turnover.